Thursday, August 10th, 2006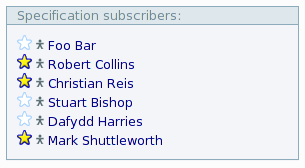 One of the Blueprint hacks I got around to this weekend was to add the idea of "essential" subscribers to a feature specification in Launchpad. Since we use Launchpad to plan our meetings, its useful to know when we are arranging the discussion sessions who has to be present when a topic is discussed, and who is simply interested in the discussion.
There's a brief doc describing the feature further on help.launchpad.net and I think it will first be used for Edgy+1 planning in November.
PS – thanks to Google for the star image, artistic improvements welcome!